On this page, you will find all the necessary back-up information that one needs to professionally estimate Mariah's worldwide sales history, as it has been done on the previous pages:
For this, we will have a closer look at official press releases, label reports, awards and interesting articles from music magazines.
Let's get to the raw numbers...
11/1994:           55 million records (album + singles + music videos)
06/01/1996:     70 million records
31/03/1997:     80 million records
Music Box has shipped 11 million units in the fiscal year
...with aggregate sales exceeding 20 million units worldwide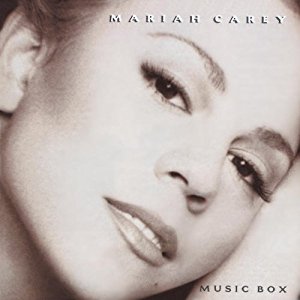 ·         Daydream…sold more than 14 million copies during the year under review

      ...while her 1993 and 1994 releases Music Box and Merry Christmas each sold over a million units
Daydream: 14 million up until March 31 1996
Music Box: 21 million+ up until March 31, 1996
Merry Christmas: 9 million up until March 31, 1993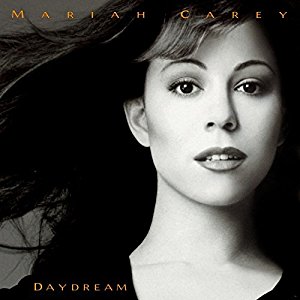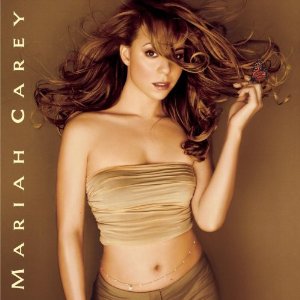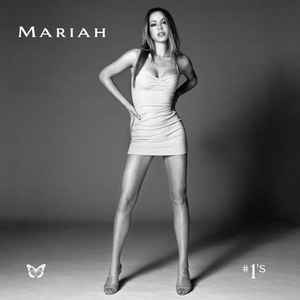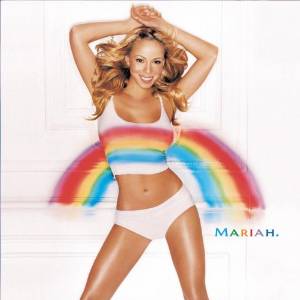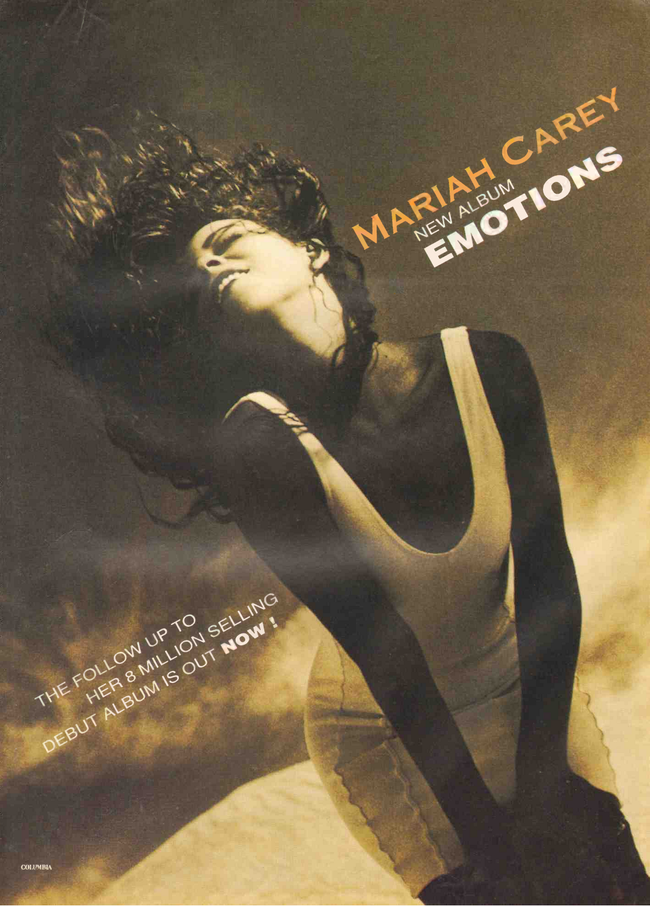 Music & Media 21/09/1991:
According to her label Columbia, Mariah's debut album had sold 8 million copies ww until the release of Emotions in autumn 1991.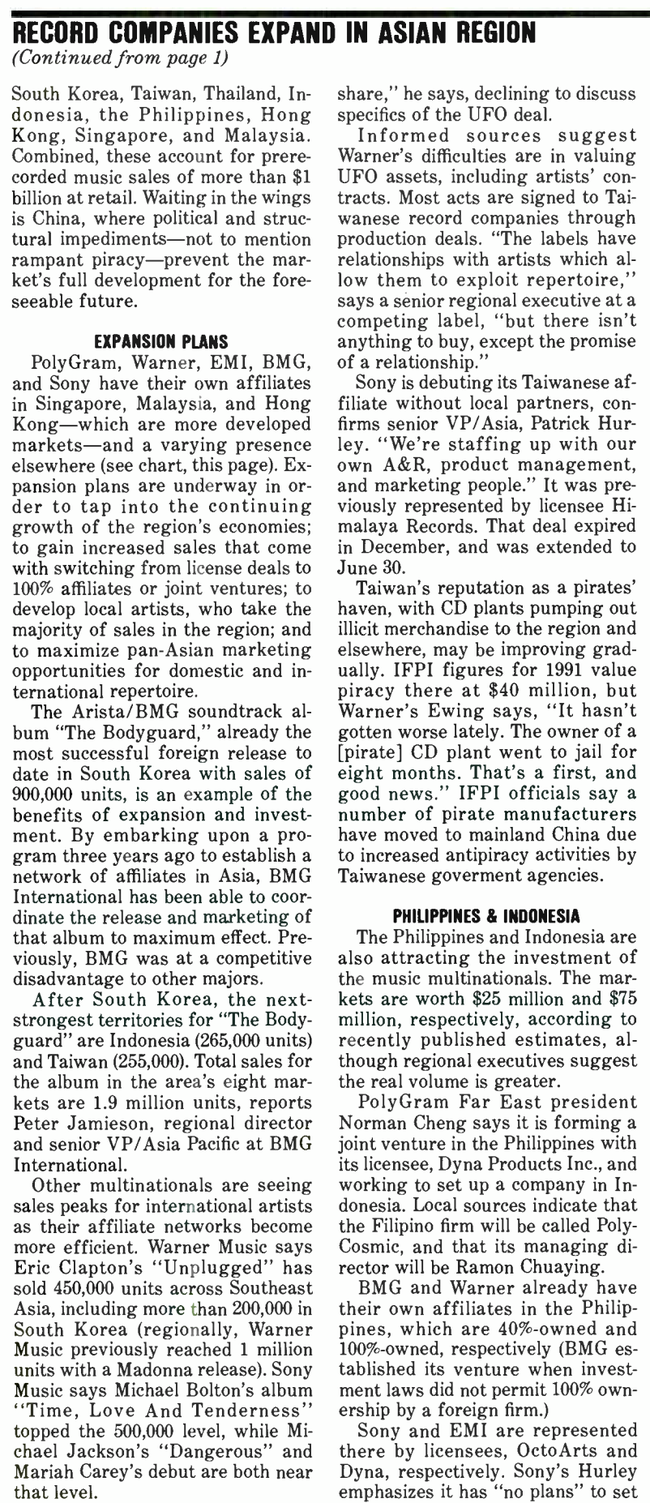 Billboard 15/05/1993:
Billboard gives some very insightful information for albums which enjoyed considerable success in Asia (outside of Japan): As such, Mariah Carey's debut album is named as one of those rare albums and is said to be "near" the level of 500,000 copies sold in the region -  and that obviously prior to the Music Box era, which would considerably boost its catalog sales once more.
Albums include:
Bodyguard OST: 1,900,000
Eric Clapton's Unplugged: 450,000+
Michael Bolton's Time, Love and Tenderness: 500,000+
Michael Jackson's Dangerous : close to 500,000
Mariah Carey's Mariah Carey: close to 500,000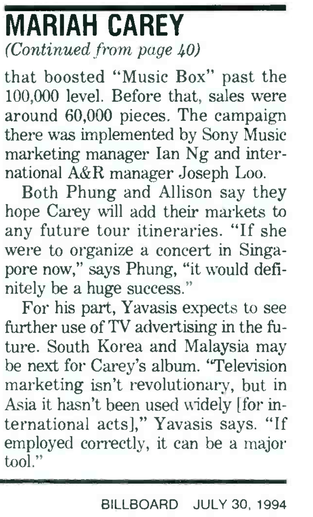 Billboard 30/07/1994:
Interesting insights into the sales progression of Music Box in Asia outside of Japan:
regional sales: 1,6 million
Taiwan, Hong-Kong and Singapore: closing in on 500,000
South Korea: 600,000+
Hong-Kong: 80,000
Singapore: 110,000
Taiwan (from initially 150,000 to then 320,000)
The article is up to July 1994 and suggests that further promotional campaigns would follow, so that these numbers have to been read as an update and not the final results for the album.

Music & Media 03/09/1994:
Music Box sold 5 million copies in Europe with 1.4 million coming from the UK and 1 million from Germany
Ceremony as shown in Music & Media 01/10/1994: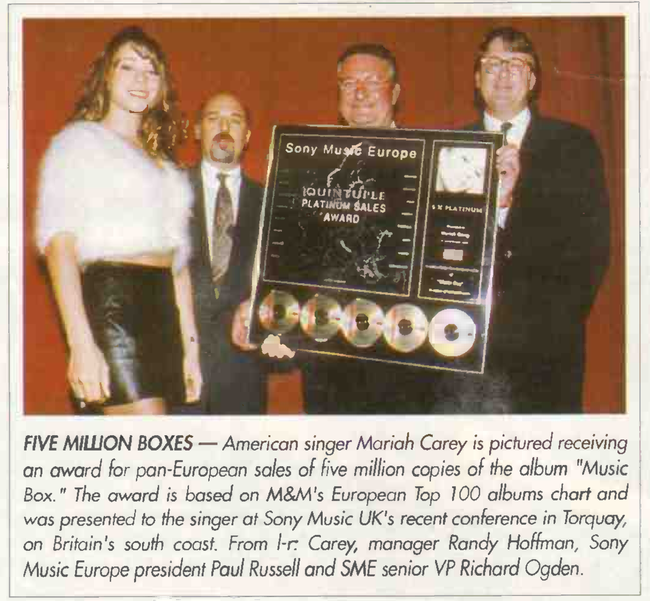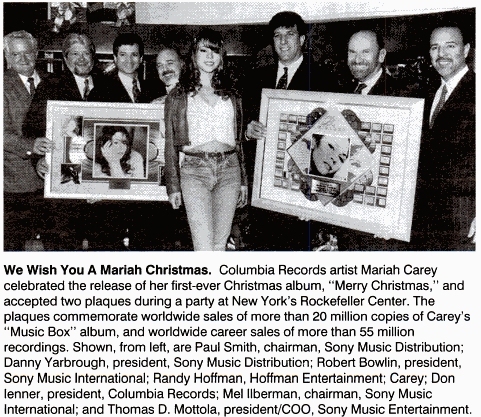 At the end of 1994, Mariah not only celebrates the release of her now classic Christmas album, but also received recognition for her blockbuster album Music Boxes, which had then sold more than 20 million copies.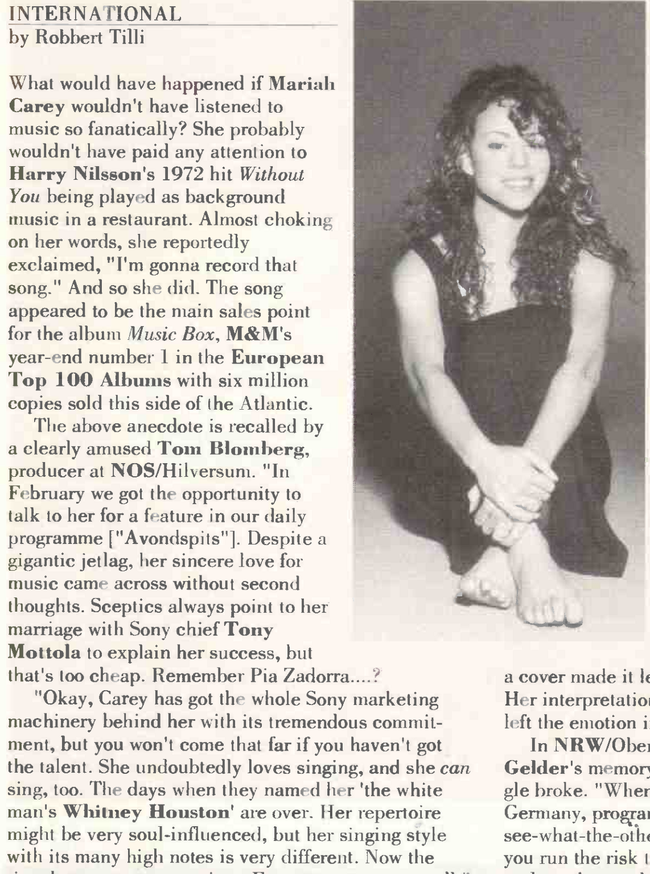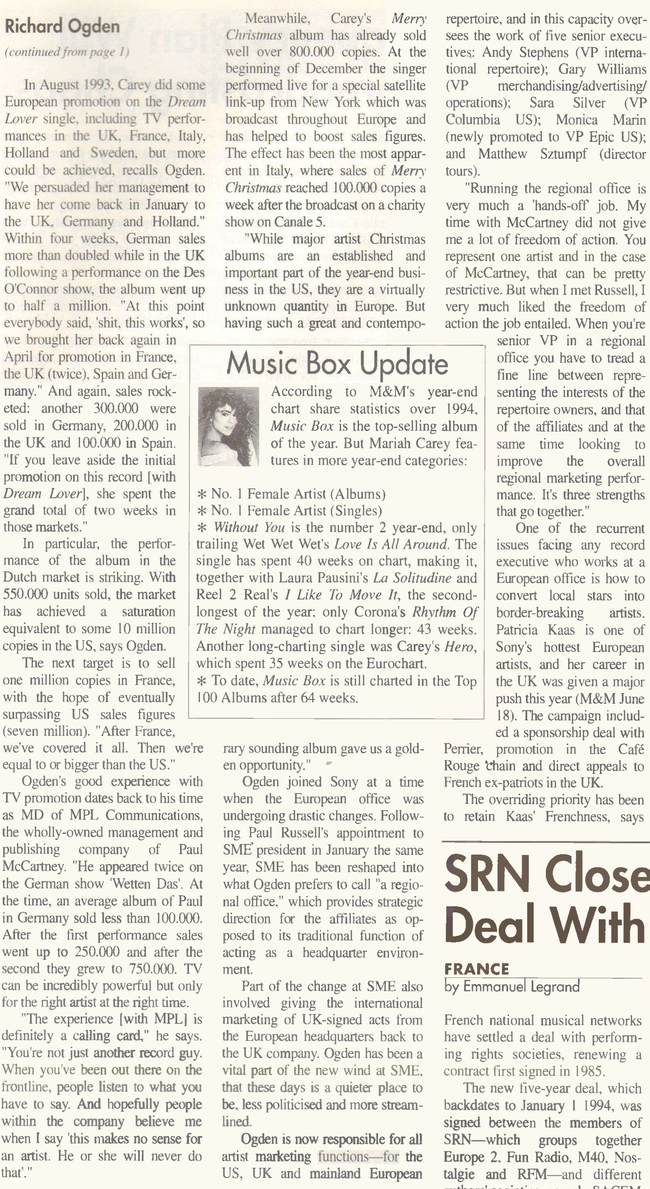 Music & Media 24/12/1994:
The European magazine dedicated to  the music market presents some interesting information at the end of 1994, which was dominated by Mariah's Music Box:
6 million albums sales throughout Europe until the end of 1994
particularly striking performance in the Netherlands: 550,000+ copies (a saturation equal to a Diamond certification in the US!)
Regarding Merry Christmas:
first shipment of already 800,000 copies
Italy: 100,000 copies
Regarding the Eurochart:
Mariah has had two long-lasting singles: Without You (40 weeks) and Hero (35 weeks)
the album has at this point spent 64 on the chart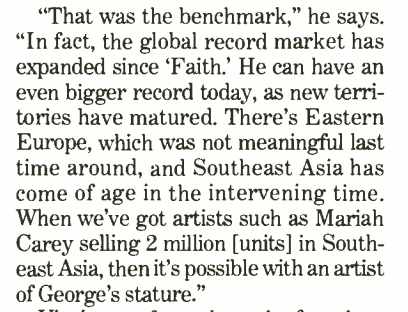 Billboard 22/07/1995:
Prior to the release of the new George Michael album at the time, Virgin Records chairman Ken Berry recalls the immense selling power of Mariah in Asia, citing her as an artist with the ability to shift a lofty 2 million units in Southeast Asia alone per album (here probably with reference to the Music Box album).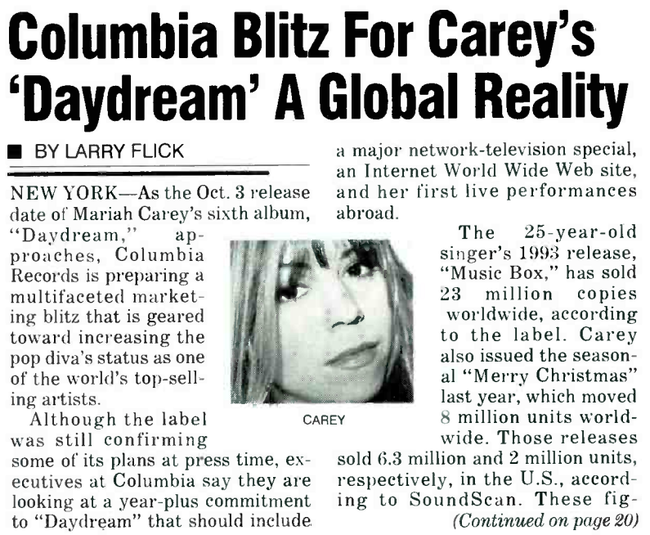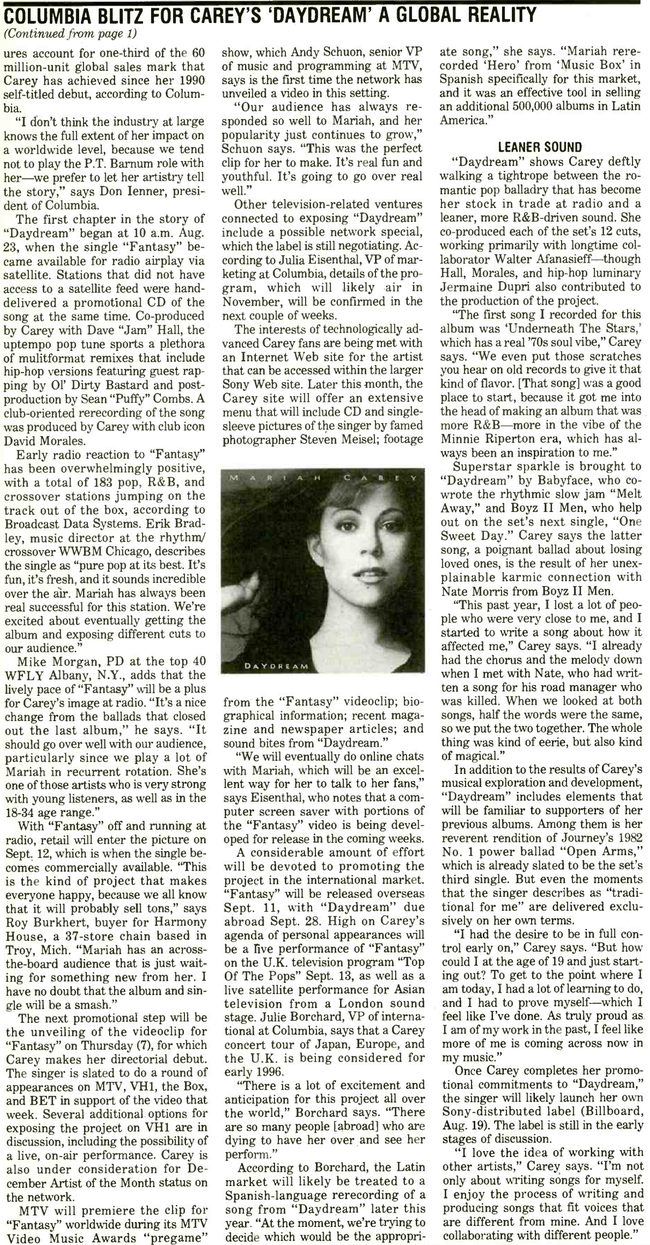 Billboard 09/09/1995:Columbia Blitz For Carey's 'Daydream' A Global Reality
Music Box: 23 million worldwide (6,3 mio SoundScan)
Merry Christmas: 8 million worldwide after its first season (2 million SoundScan)
''According to Borchard, the Latin market will likely be treated to a Spanish-language rerecording of a song from ''Daydream'' later this year. ''At the moment, we're trying to decide which would be the appropriate song,'' she says. ''Mariah re-recorded 'Hero' from 'Music Box' in Spanish specifically for this market, and it was an effective tool in selling an additional 500,000 albums in Latin America.''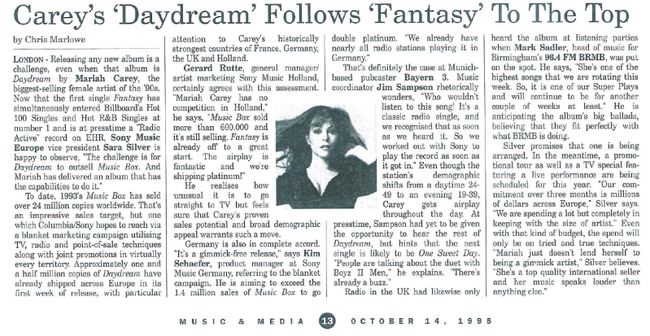 Music & Media 14/10/1995:
Representatives of Sony Music discuss the success of Music Box in Europe prior to the release of Daydream:
Interesting information in the text:
Music Box:
more than 600,000 in the Netherlands
1,400,000 in Germany
24 million worldwide
Daydream:
initial European shipment: 1,5 million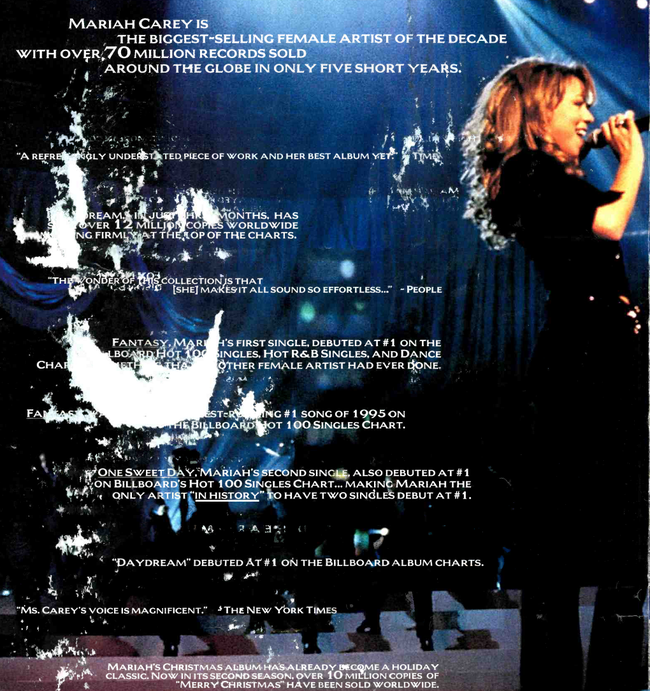 Billboard 06/01/1996:
worldwide records sales of 70 million
Daydream has sold 12 million copies in 3 months
Merry Christmas has sold over 10 million copies  after its second season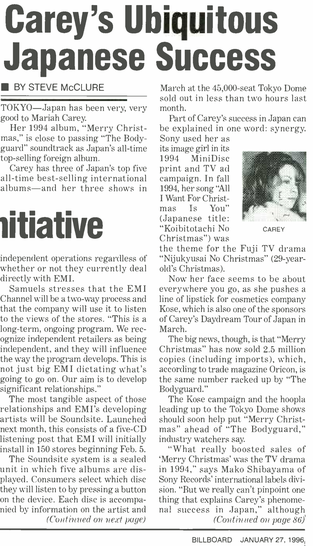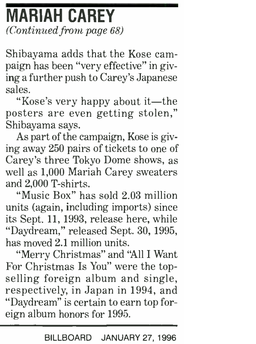 Billboard 27/01/1996: Information about Mariah in Japan:
Merry Christmas closing in on the Bodyguard OST to become Japan's all-time top-selling foreign album
Music Box: 2,03 million copies (Including imports)
Merry Christmas: 2,5 million copies (including imports)
Daydream: 2,1 million copies (including imports)
Merry Christmas and All I Want For Christmas Is You are the top-selling foreign album and single of the year.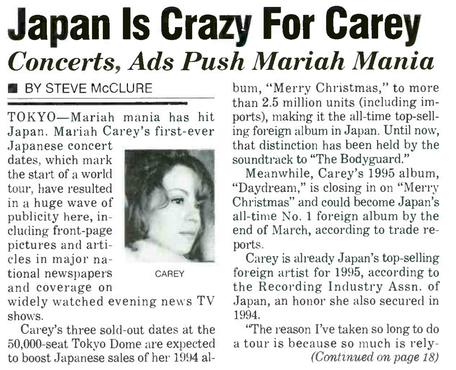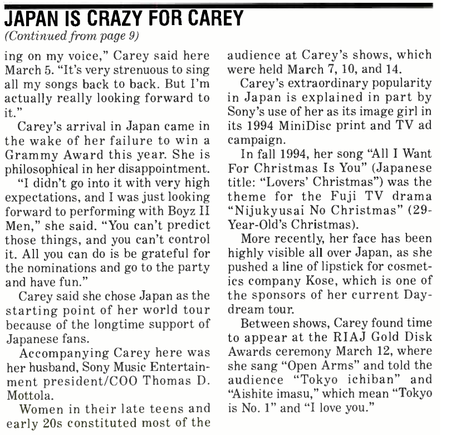 Billboard 23/03/1996:
in the vein of the upcoming Daydream Tour, Merry Christmas is expected to move past the mark of 2,5 million copies sold (including imports) and is on its way to outsell the Bodyguard OST  as the top-selling foreign album of all time in Japan
meanwhile, that reign could be quite shot lived as Mariah's very own Daydream album is closing in on Merry Christmas and - according to trade reports - could become Japan's all-time No. 1 foreign album as soon as of the end of March 1996

Music & Media 02/03/1996:
Music Box is named the 10th best-charting album of the last 20 years (1975-1995) in Sweden. Mariah is the only female artist on the list, leaving behind artists like Madonna or Whitney Houston, which appears as a testimony of the grand success of Music Box in Europe.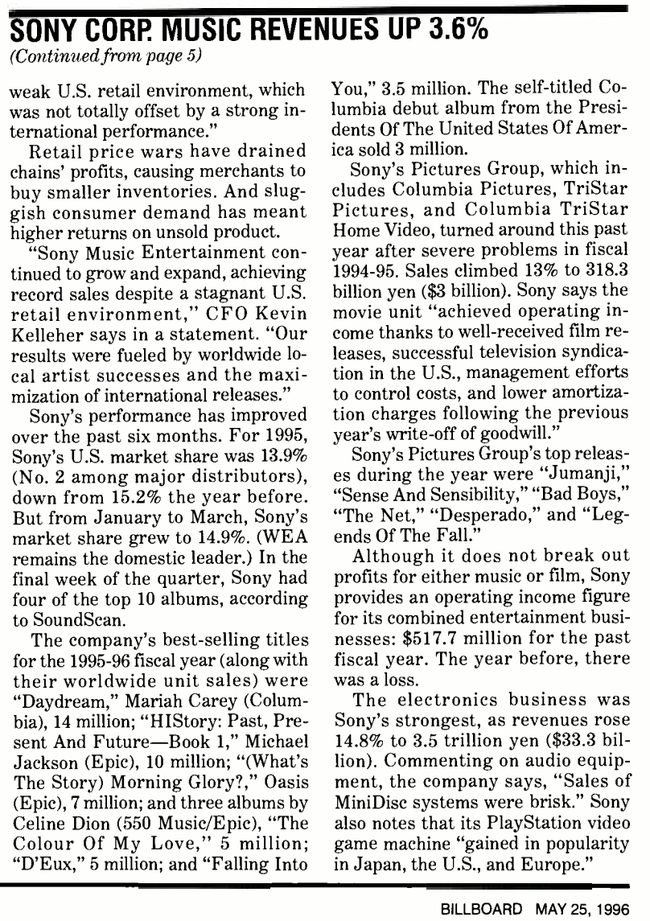 Billboard 25/05/1996:
The Billboard magazine gives insights into Sony Music's reports for its fiscal year 1995-1996 (March to March), during which time frame Daydream managed to sell 14 million copies worldwide up until March 1996.
Weekly Focus (South Korean magazine) 26/12/1996:
The magazine reports stories about the biggest international acts of the year in South Korea with Mariah Carey being the most prominent n the back of her album Daydream which is cited to have sold 550,000 copies in the country to date.
Billboard 17/05/1997:
The Billboard magazine gives deeper insights into Sony Music's report for the fiscal year 1996-1997 (March - March), for which Sony states that Daydream sold another 5 million copies worldwide after March 1996, bringing its total to 19 million up until March 1997.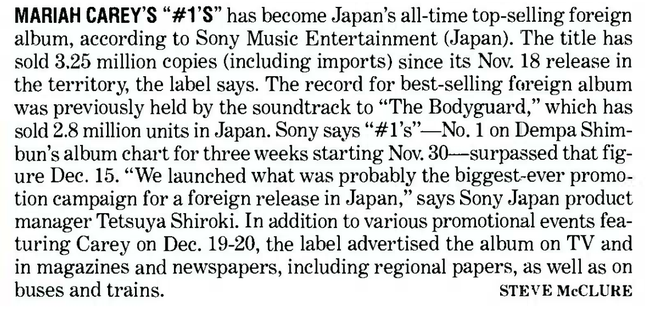 Billboard 23/01/1999:
Mariah's #1's compilation album eclipses the Bodyguard OST as the best-selling foreign album in Japan with sales of 3,25 million copies (including imports) after a mere 6 weeks of retail sales.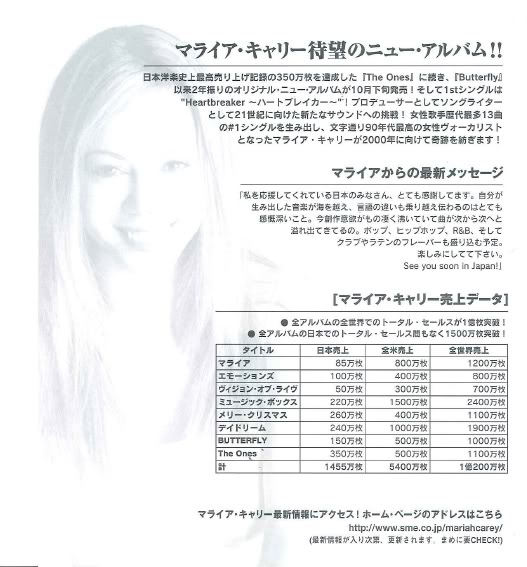 Sony Music Japan presents Mariah Carey's album sales in early 1999 shortly after the release of #1's:
Mariah Carey        Japan: 850.000         US 8.000.000         WW: 12.000.000

Emotions               Japan: 1.000.000      US 4.000.000        WW: 8.000.000

MTV Unplugged   Japan: 500.000         US 3.000.000         WW: 7.000.000

Music Box             Japan: 2.200.000      US 15.000.000 (?) WW: 24.000.000

Merry Christmas  Japan: 2.600.000     US 4.000.000         WW: 11.000.000

Daydream             Japan: 2.400.000       US 10.000.000       WW: 19.000.000
Butterfly                Japan: 3.500.000       US 5.000.000         WW: 11.000.000
TOTAL                   Japan: 14.550.000       US 54.000.000     WW: 120.000.000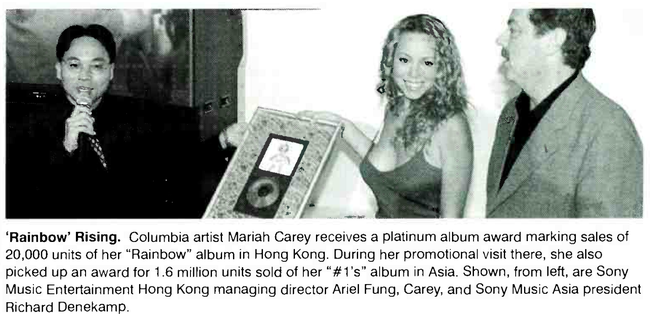 Billboard 15/01/2000:
At the turn of the millennium, Mariah received an awards for Asian sales of #1's in excess of 1,6 million units sold (outside of Japan) for a total of then at least 5,2 million copies  (Japan ~ 3,6 mio) in the region as of 2000.
She also received a platinum certification for Rainbow in Hong Kong (20,000 units).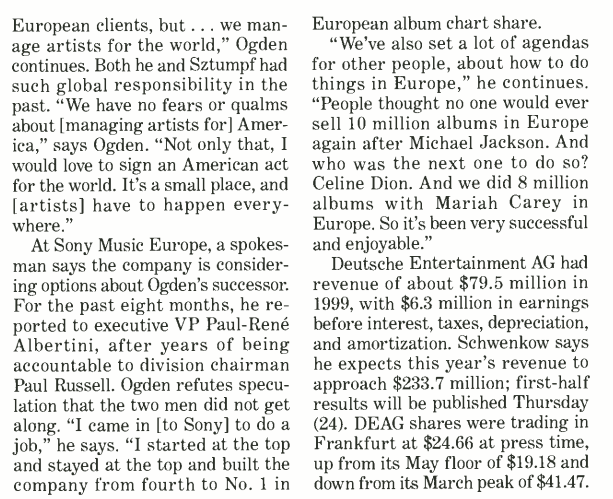 Billboard 26/08/2000:
"...People thought no one would ever sell 10 million albums in Europe after Michael Jackson. And who was the next one to do so? Celine Dion. And we did 8 million albums with Mariah Carey in Europe."
Carey's 'Glitter' Sparkles In Japan
Mariah Carey's "Glitter" album has become a major hit in Japan, the first and only world market where it has been issued so far, Billboard Bulletin reports. It is the country's No. 3 title this week, according to the latest Oricon and Dempa charts, and the most popular release by a non-Japanese act. Sony Music Entertainment (Japan), which shipped "Glitter" Aug. 18, says sales to date are 450,000 units. The album has a bonus track for the local market, a third mix of the "Loverboy" single.
Carey left Sony Music earlier this year for a worldwide deal with Virgin Records, excluding Japan. The Recording Industry Association of Japan says the singer's "The Ones", which sold 3.6 million units in the territory, is one of the biggest-selling albums ever by a non-Japanese artist. Virgin is scheduled to release "Glitter" Sept. 11 in the U.S. The movie for which it serves as the soundtrack goes to theaters Sept. 21 in the U.S. and in mid-October in Japan.
As previously reported, release of the film and the album were bumped after Carey suffered an emotional breakdown last month. The artist has plans to sit for an interview with Barbara Walters that will air Sept. 12 on ABC's "20/20" at 10 p.m.
 Source: billboard.com
Interesting from Sony Music Japan, which was at that time still distributing Mariah's musical releases in Japan:
initial shipment for Glitter in Japan: 450,000
sales of #1's as of 2001: 3,600,000
Sony Music China's press release for the release of Greatest Hits
Mariah's splendid singing career which includes album and single sales of more than 150 million worldwide.

'Music Box' is Mariah's biggest selling album to date, with over 25 million in sales (worldwide).

Source: Sony Music China - July 2002
Mariah Carey Biography
In the United States it ('Music Box') became a Diamond album (10 million in sales) and sold over 25 million copies worldwide, 1 million sold from our country (South Korea).

Source: Universal Music Korea - 2002
'Charmbracelet' re-release press release
Moins d'un an après sa signature sur le label Island Def Jam, Mariah Carey nous livre en avril 2003, une nouvelle édition exceptionnelle de son Charmbracelet, quasiment double Disque d'Or en France (plus de 3 millions d'albums vendus dans le monde !). Cette édition comprend le tube de Busta Rhymes "I Know What You Want", ainsi que "Boy"le nouveau single de la grande Mariah.

Translation: 'Charmbracelet' is close to Double Gold status in France (200,000 copies) plus it sold over 3 million copies around the world.

Source: Universal Music France - 2003
'The Remixes' press release
...
With worldwide album and singles sales totaling well over 150 million records, Mariah is arguably the best-selling female artist in pop music history.
...

Source: Sony Music - 2004 & PR News Wire - 2004
Greatest Hits
With shattering vocals, Mariah Carey has sold in excess of 120 million (Sony Music) albums worldwide since her chart debut in 1990. The best-selling female performer of the 1990s, she rose to superstardom on the strength of her stunning five-octave voice, and has moved easily from glossy ballads to hip-hop-inspired dance-pop.

Source: Sony Music Australia - 2005
'The Emancipation of Mimi' sells 9 million copies worldwide
NEW YORK - Mariah Carey will hit the road for the first time in more than three years this summer on the "Adventures of Mimi: The Voice, The Hits, The Tour" arena outing. Dates get underway Aug. 5 in Miami and are on tap through Oct. 10 in Phoenix. Sean Paul will open the majority of the tour's first portion, with other openers to be announced.

Tickets begin going on sale June 2. The tour comes in support of Carey's smash hit album "The Emancipation of Mimi," which has sold nine million copies worldwide, according to Island Def Jam. Carey promises to also perform several tunes from her back catalog live for the first time.

Source: Billboard - May 22, 2006